Outdoor Activities
Thanksgiving Point's Farm Country is for all animal lovers alike, come meet your favorite farm critters such as cows, goats, horses, chickens, sheep, and pigs at Farm Country. You could even meet some unusual animals like llamas, alpacas, and peacocks.
Ashton Gardens features 55-acres of stately gardens, grand lawns, as well as the largest man made waterfall in the Western Hemisphere. enjoy nature's beauty in these secluded gardens. Stroll through the 15 themed gardens to enjoy the cascading fountains in the Italian Gardens, visit the I Am The Light Of The World sculpture garden, get a bird's eye view of the gardens from the Vista Garden, feed the fish at Koi View Pier, and discover the Secret Garden. You can even rent golf carts or Segways for another way to "stroll" through the gardens.
With views of surrounding evergreens, Midway City Ice Rink touts itself as Utah's most scenic outdoor skating rink and one of its largest. The glistening rink gets resurfaced every two hours, so skaters can smoothly execute their maneuvers. When skaters need a break, they can escape to the warming hut and sip hot chocolate, restoring heat to their fingers and toes.
Robert Redford's Sundance Mountain Resort is a haven for winter and summer recreationists, as well as artists and nature lovers. Mountain recreation includes skiing, snowboarding, night skiing, cross country skiing and snowshoeing in winter and hiking, biking and horseback riding in summer and year round world class fly-fishing on the Provo River. In Spring 2015, Sundance will open Utah's longest Zip line with a vertical drop of 2100 feet.
Provo Canyon features Bridal Veil Falls, Vivian Park and the Provo River Parkway, among other stops that collectively are a fantastic year-round destination for outdoor recreation. Runoff River Adventures and other private outfitters in the area offer horseback riding, zip lining, bike, kayak and tube rentals.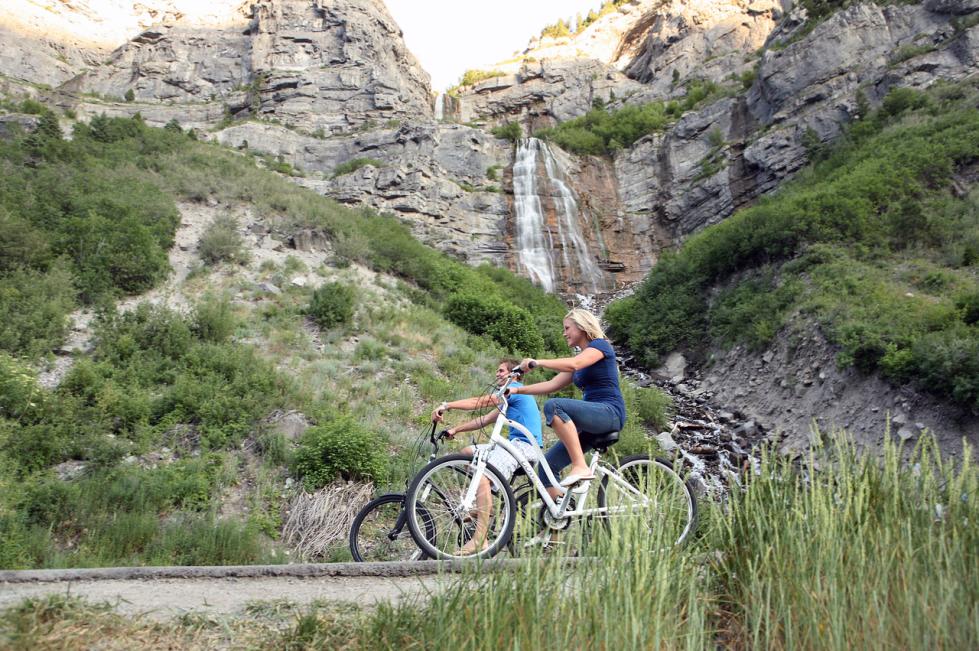 The Lone Peak Wilderness is a 30,088-acre (121.76 km2) wilderness area located within the Uinta and the Wasatch-Cache National Forest in the U.S. state of Utah. Most trails are rated moderate to severe. Trails are easy to follow, but may cross extremely rough terrain at high elevations. Usage of the area is light to moderate, heaviest on weekends and during hunting seasons.
Big Cottonwood Canyon is a canyon in the Wasatch Range 12 miles (19 km) southeast of Salt Lake City in the U.S. state of Utah. The 15-mile (24 km)-long canyon provides hiking, biking, picnicking, rock-climbing, camping and fishing in the summer. Its two ski resorts, Brighton and Solitude, are popular among skiers and snowboarders. This is a watershed canyon that supplies drinking water to the Wasatch Front, therefore pets and other domesticated animals are not allowed.
Timpanogos Cave National Monument is located on the Alpine Scenic Loop in American Fork Canyon. The three caves of the system are well known for their colorful formations, unique helicities, fault-controlled passages, alpine surroundings, and rich history. It is open from mid-May to mid-October.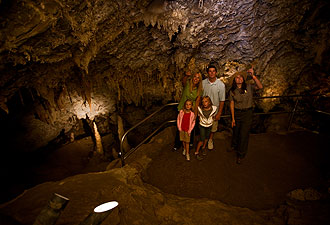 The Little Sahara Recreation Area in Utah is a large area of sand dunes, hills and sagebrush flats located in the west central part of the state approximately 30 miles north of Delta, Utah. A 9,000-acre portion of the northwest corner of the facility has been designated as The Rockwell Natural Area and is off limits to vehicles to preserve and shelter desert plants and animals. Little Sahara is one of the most popular locations in the state for ATV riding. Riders can enjoy riding on 60,000 acres of sand dunes, trails and sage brush flats. Visitors can also enjoy camping, hiking and two of the world's biggest sand boxes which are areas of the dunes fenced off from vehicle and horseback riders.
One of the unique outdoor activities at Midway Utah Resort is the one-of-a-kind Homestead Crater. The Crater is a geothermal spring, hidden within a 55-foot tall, beehive-shaped limestone rock located on the Homestead property. The crater is the only warm scuba diving destination in the continental US. Visitors can also enjoy a soak or a snorkel in the 96-degree water.
Murdock Canal Trail, which opened in May 2013, is built over the now-enclosed canal. The beautiful 17-mile paved trail connects seven communities in the Utah Valley and has an adjacent dirt path for equestrian use. The trail is marked every quarter-mile and has established trailheads with restroom facilities and running water about every three miles.
Cascade Springs is a must see for those heading over American Fork canyon on the Alpine Scenic Loop. The views of the Salt Lake Valley to the west, the Tri-Canyons (Millcreek, Big & Little Cotton wood) were outstanding. It really felt like you could touch the clouds. There is a combination of paved and wood paths that allow visitors to explore beautiful waterfalls and ponds. The larger ponds are shallow and clear which make it easy to see the native cutthroat trout swimming in the reeds.
Nebo Loop is designated a National Scenic Byway by the Federal Highway Administration, recognizing it as one of the premiere driving roads in America. The road climbs 9,000 feet and crosses the Uinta-Wasatch-Cache National Forest providing stunning views of Utah Valley, the surrounding Wasatch, and dramatic wrap-around vistas of 11,928-foot Mt. Nebo, the highest peak in the rugged and beautiful Wasatch Range. September 14-24 is expected to feature the height of this season's fall colors.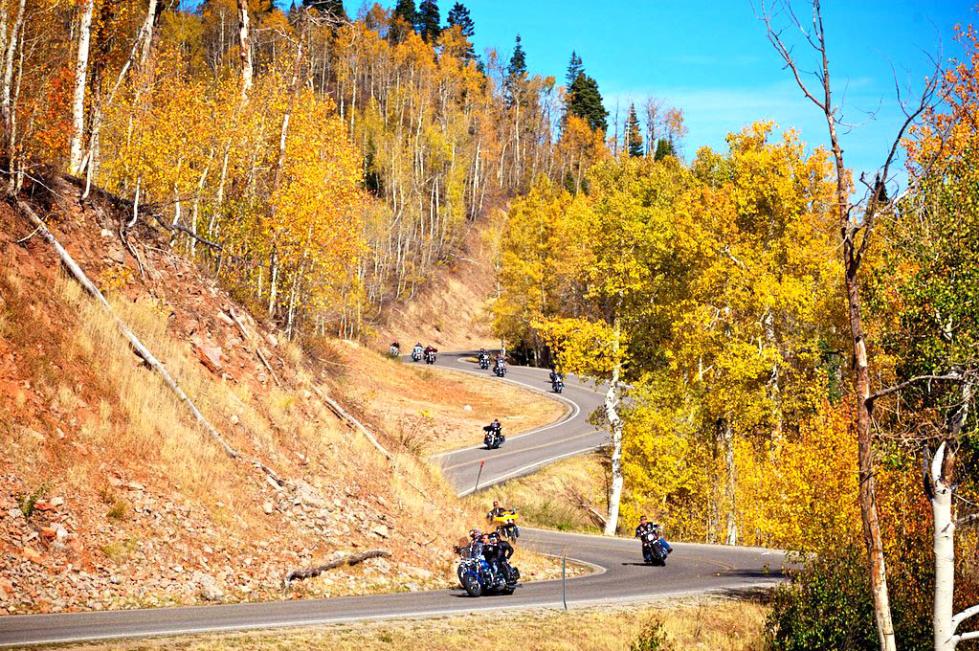 The Alpine Loop features stunning views of Mount Timpanogos and impressive aspen groves, and provides access to numerous hiking trails and campgrounds. It also provides access to Timpanogos Cave National Monument, Sundance Mountain Resort, and trails that lead from the road into the Mt. Timpanogos and Lone Peak Wilderness areas.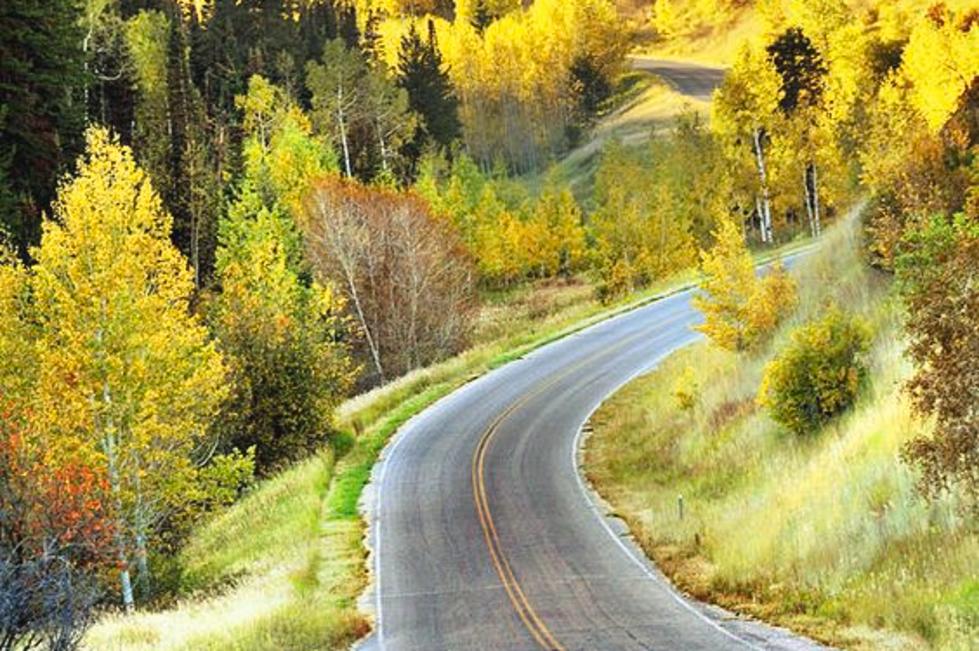 Utah Mountain Adventures is one of the few guide services in the US that truly operates 12 months a year and offers the full gamut of guiding and instruction. Ski and snowboard backcountry, Avalanche education and rock climbing are their most guided activity, followed by mountaineering, ice climbing, trekking, and canyoneering skills.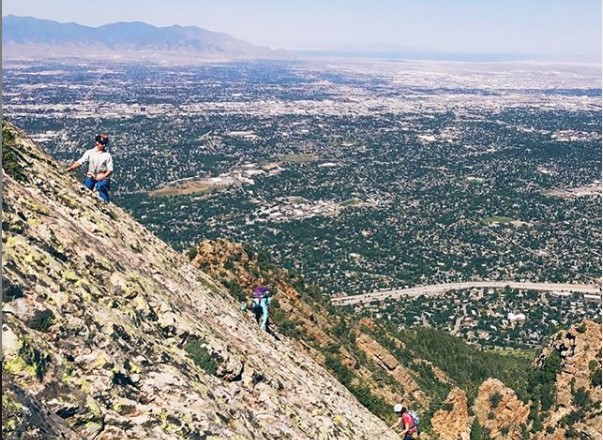 Rock Canyon, adjacent to Provo, Utah, draws thousands of people annually who seek recre­ation, renewal, and inspiration. It is one of the few remaining "URBAN FORESTS" in the United States which is eas­ily accessible and free for public use.
Mount Timpanogos is the impressive wall that dominates the landscape on the northeast side of Utah Valley. It is one of Utah's most recognizable mountains, and perhaps Utah's most popular mountain hiking destination. Early August is the best time to hike if you also want to see profusely blooming wildflowers.
Lambert Park is a foothill area on the edge of the national forest, near Alpine. Over 16 miles of single track trails meander through scrub oak, maple, fir, and sage. In addition to its single track system, Lambert Park has double track for ATVs, motorcycles, beginning cyclists, and horses. Motorized vehicles are forbidden on the single track.
Mountain Ranch Bike Park, located in Eagle Mountain, Utah, United States, is a city park designed for mountain bikers of all skill levels. The park features dirt jumps, a pump track, two slope style trails, a skills area and a single track trail with wood features.
Provo Canyon Adventures Zipline is Utah's premier tree-top canopy zip line tour nestled in the Wasatch Mountains and adjacent to the world famous Provo River. Soar across the tree-tops and fly with the birds as you take in beautiful mountain vistas, stunning views of Mt. Timpanogos and the Provo River.
Sundance ZipTour is boasting over 2,100 feet of vertical drop – the most of any zip line tour in the United States. Guests can ride side-by-side on the zip line's double cables and control their speed, cruising over 65 miles per hour, or stopping mid-air for a scenic photograph.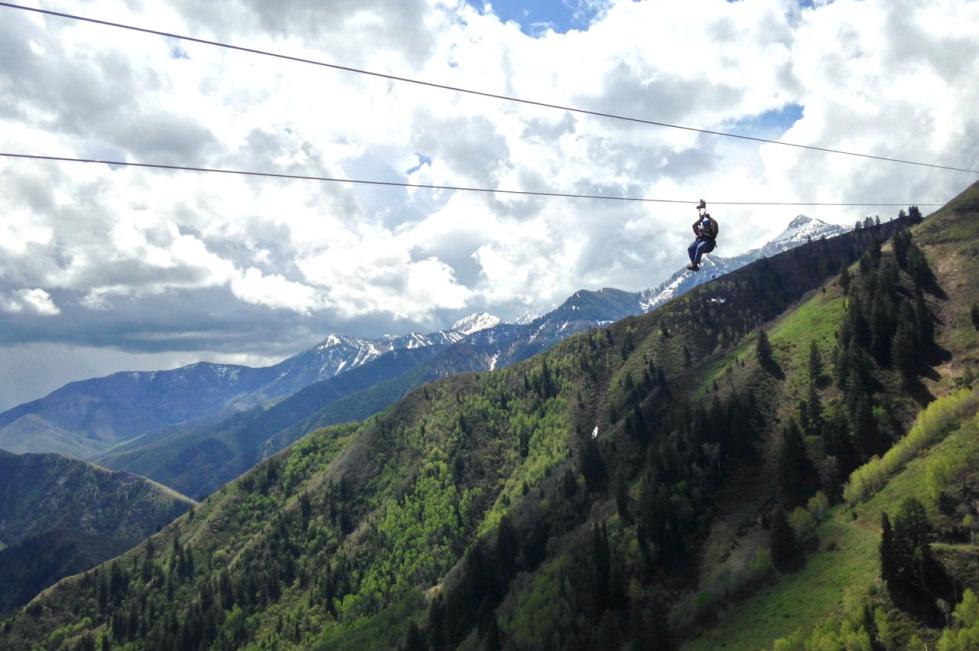 All-stars paintball, located in American Fork, Utah, specializes in birthday parties, events, walk in play and rental equipment. If you are an active paintball player or a first timer, we have the field and staff to accommodate. Paintball is one of the safest and most fun you will have with friends, church groups or business organizations. Come down and check out how much fun you can really have.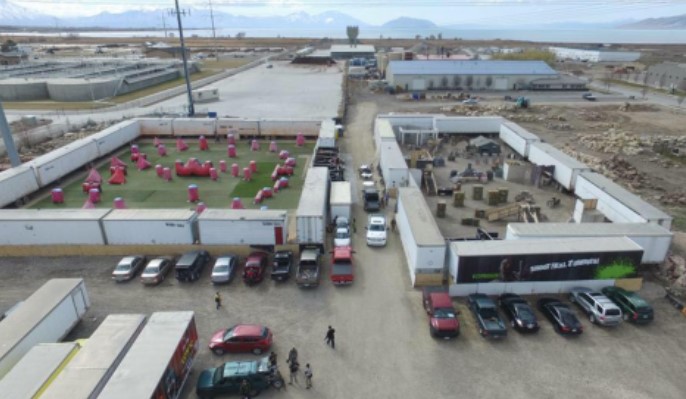 Utah Xtreme Paintball is located in Midvale, Utah. It is the largest indoor playing field, offering one NPPL tournament and one scenario field, interchanging them throughout the week. They offer rental options for the beginners as well as gear for the more advanced players. They offer an air conditioned field and Pro shop during the summer months and a heated field in the winter months, making it comfortable year round to play and enjoy paintball, also offering food and drinks.